If you want to run a successful online
business then you'll need to market
your business through content. Period.
Yes you can use paid advertising, but
if you can't break even or convert cold
traffic into sales then you'll just be
pouring money down the drain.
So the next best step is to build
credibility, trust and loyalty with
your prospects with your content so
when they are ready to buy, they know
that YOU are the person they should do
business with.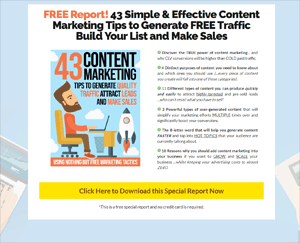 In today's special report you'll
discover…
Discover the TRUE power of content
marketing… and why CLV conversions
will be higher than COLD paid traffic.
4 Distinct purposes of content you
need to know about and which ones you
should use (…every piece of content
you create will fall into one of these
categories).
11 Different types of content you can
produce quickly and easily to attract
highly-targeted and pre-sold leads
…who can't resist what you have to
sell!
2 Powerful types of user-generated
content that will simplify your
marketing efforts MULTIPLE times over
and significantly boost your
conversions.
The 8-letter word that will help you
generate content FASTER and tap into
HOT TOPICS that your audience are
currently talking about.
10 Reasons why you should add content
marketing into your business if you
want to GROW and SCALE your business
…whilst keeping your advertising
costs to almost ZERO.
Download directly from the link below…